Since I was a kid, I've been reading
Archie comics.
They used to be sold at the bookstores/news outlets down here in Antigua. And while other kids were buying toys and video games, I was buying Archie comics and tween novels. Keeping it real, my favourite main character was
Jughead
, simply because he did what he pleased and didn't really give a damn.
One of the things I have to give the creators of Archie comics is the fact that they did diversify their cast of characters to a degree. I'm still waiting for the Asian, American Indian or East Indian characters, but they did have Black and Latino characters in the lives of the main characters. Namely Nancy Woods and Chuck Clayton representing Blacks and
Maria Rodriguez and Frankie Valdez representing Latinos
.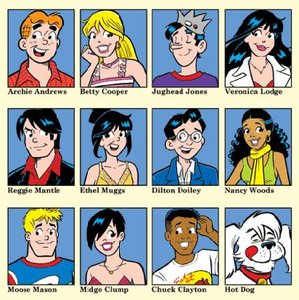 Although Nancy and Chuck were featured the same amount of times as other supporting characters (Dilton, Moose, Ethel). Their back stories were vague to say the least and their character development was minimal. The most we know about Chuck is he is an artist with interests in comics and he's the son of Coach Clayton. We even know less about Nancy apart from her being Chuck's girlfriend. Heck I didn't even know her last name until I saw the above pic.
It's a situation where you can't have your cake and eat it too. Yeah, we have blacks in a well known comic book, but their story is very limited. Then we have Valerie Smith/Brown. Yes I said Smith/Brown, in the cartoon she's one name and the comic book she's another. She's so fabulous, she has two, Two, TWO last names.
Here's some info on Valerie courtesy of
Wikipedia
:
A headstrong young lady, Valerie performs back-up vocals (in the comics, cartoons, and the movie) and occasionally sings lead (nearly always in the TV series) for the Pussycats. In the comics and the movie, she plays the bass; in the cartoons, she plays tambourine. She is also the group's main songwriter, and is occasionally seen playing different instruments. In the comic book, she replaced Pepper, a sharp-minded spectacled brunette.
Valerie's surname may be the most definite of the three. Archie Comics have occasionally used the name "Brown" from the movie on their website and in promotional material, but in the comics, she is always called Valerie Smith.
In the comics, Valerie is more tomboyish than her two bandmates. Besides being good at science and a skilled auto mechanic, she occasionally shows a quick temper as well as being physically stronger than she might appear. She is also less concerned about her appearance or her love life than Josie, Melody or Alexandra, and has rarely been seen in a romantic relationship, though in the cartoons she seems attracted to Alexander.
In the animated series, she is somewhat similar to Velma Dinkley from Scooby-Doo and they met in a 1973 episode of The New Scooby Doo Movies, The Haunted Showboat. She is the character who saves the day the most often, thanks to her street smarts and her mechanical and scientific genius. In the comics, this is downplayed, although she is still the most intelligent of the group. Valerie is the first African-American female cartoon character on a regular animated television series.[

citation needed

]
Valerie's speaking voice is performed by Barbara Pariot, and her singing voice is performed by Patrice Holloway, sister of Motown recording artist Brenda Holloway. She was played by Rosario Dawson in the live-action movie.
To me, Valerie is all about firsts when it comes to comics like the Archie Comics. Not only is she the first well rounded character who is in the lead, she is smart and a leader. Although I love the other Pussycats, Josie is naive and Melody is a bit special. Valerie sees through BS and makes no bones about it. She calls it as she sees it. Plus who else could pull off a romantic connection with Archie, the comic's name sake -
The Archies & Josie and the Pussycats (Archie & Friends All-Stars)
.
Yes ladies and gentlemen, Valerie of Josie and The Pussycats is truly a talented, outspoken, pretty dark girl. Below are some pics found around the internet.
Here's a clip from the cartoon:
Also be sure to check out more chocolate comic characters in the future. Black, Nerdy and loving it.